It's Imazing
Imazing Dedicates to Serving Customers in Our Best Efforts
Quiet
Just Click It Once
Dual-Protection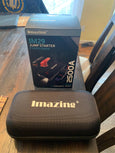 Perfect and versatile
I absolutely love this product for a number of reasons. I purchased it mainly because my mother in laws car battery kept dying and she struggled with our very large battery booster.
Feb 08, 2022
Impressive! Packs a punch!
When winter comes around there is a lot of stuff that doesn't start. I have only had this for 2 weeks and it has already impressed the heck out of me. It has started multiple 6.7 cummins, 6.6 duramaxs and 6.8 V10s that were completely dead. Just a single click when turning the key to having full power and running.
Jan 26, 2019

Very sturdy and well built
The Imazing jump starter comes with a nice carrying case. It is padded though the jump starter itself has a rugged rubberized outer cover. Seems very durable. It has a digital battery meter on it. Really easy to know the battery strength. That will help to make sure it gets charged. It is no good if it is dead when it is needed to jump start a car.
Oct 20, 2021